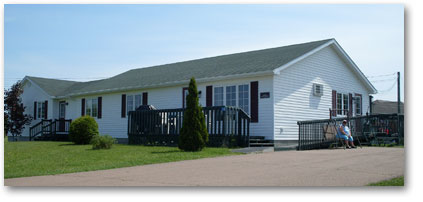 The Residenceís History
In operation since 1991, the Philippe-Bourgeois Residence was created based on the need of the community. Mr. Bourgeois had a daughter with special needs and foresaw the necessity to have someone take the place of his family when they would no longer be able to take care of her. Because of his initiative and implication in making this idea a reality, the residence was named in his honour. The residence, which provides services to adults with special needs, presently has 10 residents.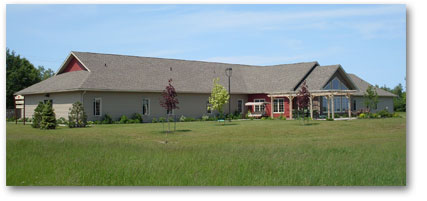 The Special Care Homeís History
In 2007, The Harbourís administration decided to build a special care home in the Richibucto area. The reason that motivated this project was the lack of residential services for seniors. The construction began in the summer of 2008 and the first residents moved in on July 1st of the following year.
Services Description:
for independent and partially-independent people (levels 1 & 2);
single bedrooms each equipped with their own bathroom;
thermostat for temperature control in each room;
cable TV provided in each room;
sound proof walls and comfortable size rooms;
dining room with full service (varied menu);
snacks;
menu for diabetics;
security building with full time staff on hand at all times;
cleaning and laundry services;
religious services;
administration of prescribed medication;
assistance or supervision with personal care;
emergency button in each bedroom and bathroom;
grab bars and safety rails (bathroom and corridors);
consultation services from a registered nurse.
Admission to The Harbourís Residences
need to be evaluated by the Department of Social Development;
a financial evaluation, based on the individualís income, will be performed by the Department of Social Development;
the decision to move is strictly voluntarily.
Security
Smoking is prohibited inside the building.
Under all circumstances, services will be provided in the utmost respect of the residentís private life.